Funds are now needed to bring Jerry and Joe back to Florida and for their funeral and burial. Please send your contributions to: Waiting on clarification on Jerry's Moms information

Donna Lee c/o 501 N Madison Avenue  Clearwater, Florida  33755

or Paypal to deeleesa@hotmail.com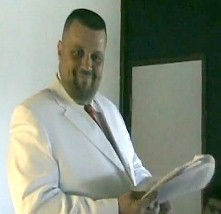 Commonlaw Copyright © 2010 My Private Audio - All Rights Reserved

Jerry Kane and his beautiful son Joe (age 16) were shot to death during an alleged traffic stop by law enforcement on Thursday, May 20th, 2010. Jerry, Joe and their two dogs, while on their way back to their  home in Florida have been made out to be everything from drug smugglers to hispanics, which we all know is typical of the media spinners. The police said it was a traffic stop.  But their van had more bullet holes in it than Bonnie and Clyde's.

We will miss Jerry and his son Joseph for the love and compassion that they shared with their fellow man and for their tireless contributions and effort in helping those in need.  Our condolence and our love go out to Jerry's newlywed wife, Donna Lee.  We also pray for the families of the police officers who were injured and killed in today's (5/20/2010) unfortunate shooting incident and we pray that no one should ever have to go through this type of experience ever again.  May God bless everyone and allow Love and Peace to abound... 

Jaime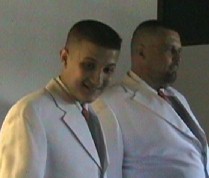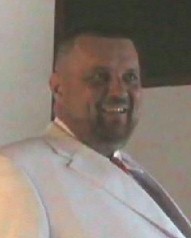 I first met Joe Kane when he was 14. He was a sweet, loving young man with a charming demeanor and a warm smile.  Joe had a brilliant mind and quick wit,  like his Father. Joe was also blessed with healing hands and he was always willing to help those in need whenever asked. Not into gangs, rap music, or drugs, he was a well rounded, wholesome young man with a healthy outlook and a golden future. Jerry and Joe were cleancut and admired by everyone that made their aquaintance, not only for their knowledge and understanding of the foreclosure scam, but for their moral etchics and integrity.

Together they educated the people about the Mortgage Fraud and how to fight to keep their homes.

Joe adored his father and was always at his side.  This was a terrible tragedy for all involved in what ocurred on I40 and I hope and pray that the truth about what really happend will be revealed.

Angela

Jerry's Mother's has taken responsibility for the arrangements.

Father and Son killed in West Memphis

Law enforcement officials have still not identified the Kane's as the ones who killed the officers at the traffic stop.  However, ALL the headlines presume it and all this drivel, false accusations, guilty until proven innocent articles have condemned them already.  The only facts on the table at this point is that the Kane's were killed by law enforcement.  The videos are all there.  The pictures are all there.  The statements by law enforcement and the media are all there but where's the proof?

Where's the video and audio of the Kane's shooting the officers at the traffic stop?  NON-EXISTENT!  Tell me the West Memphis Police don't have audio and video capabilities in the patrol cars.  They should have been able to screen to the public within minutes what happened.  This information is still not available.  WHY?

Oh, and then the drivel about white Supremacy groups from...oh what did they say 10 maybe 13 years ago that exists no longer? Jerry was not  involved with it . I wonder if the van was that old.

It kills me to think of all the tragedy that has been done.  I feel for the Kane's (they left family too) and those who knew them and were helped by them.  I feel for the officers and their families.  I feel for the brothers and sisters in law enforcement who lost some of their own. 

But WHERE is the proof that it was the Kane's who killed the officers at the traffic stop?  Nothing goes further until that is proved and the videos and audios are aired proving that claim.  Otherwise it is nothing but hearsay.  This will not end until the people know the truth and the drivel by law enforcement out of their mouths won't prove a thing except a coverup.   Holding back information from the people by law enforcement is a direct violation of the peoples ability to control their government and police forces.  It's the peoples information.  NOT law enforcement's information.  Law enforcement are the peoples SERVANTS.

Here's what my state constitution says...yours says something very similar:

Missouri Constitution | Article I

BILL OF RIGHTS | Section 3

August 28, 2009

Powers of the people over internal affairs, constitution and form of government.

Section 3. That the people of this state have the inherent, sole and exclusive right to regulate the internal government and police thereof, and to alter and abolish their constitution and form of government whenever they may deem it necessary to their safety and happiness, provided such change be not repugnant to the Constitution of the United States.

All those concerned need to make the above their own and post it to every news media outlet posing the Kanes as guilty before proven innocent. ~ John Galt

Where's the patrol car cam video?

Where's the audio?

Where;s the traffic cam video?

All they are doing is SAYING what they think happened. Where's the evidence?

Have they buried it?

I will honorably accept the truth and apologize if the media is right, but first we need to see and hear the proof. Until then it's all speculation except for the proof that Jerry and Joe were massacred by law enforcement agencies that participated in the shootout.

Sheldon

Jerry and Donna Lee were just married three months ago. Jerry spoke of ending his travelling to give classes and seminars accross the country and was looking forward to staying close to home and enjoying his new life in Florida. They were happy.

Bombshell

Last month, Jerry was stopped on I40 in New Mexico and arrested for not having a drivers license.  He recently completed his Complaint for the unlawful arrest.

Coincidence?

I40 sounds like the good ole boy  stretch-of-highway, where if they spot you, and they already dont like you, you'could get killed.  Even if you are just a Dad and son with your two dogs on your way home, minding your own business.

Let's face it. If there wasn't a "traffic stop" no one would be dead!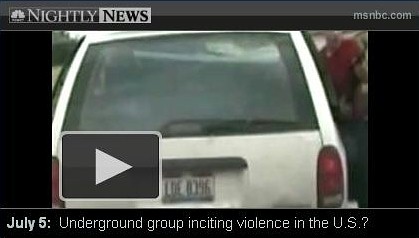 Name Calling Hate Monger Media


We are PRO PEACE and

we are NOT UNDERGROUND!